Special TinyChat Video contest for June 7 during the pre-net
W5DT wins the contest!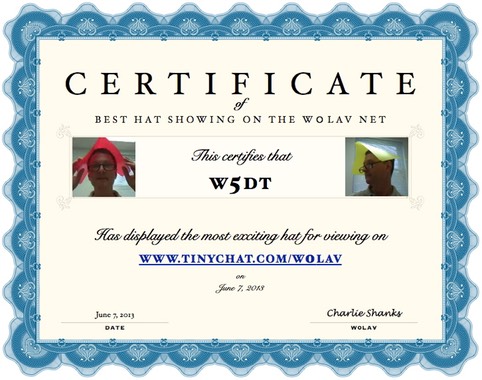 Why Use TinyChat?
If you, or someone you know, wants to "hear what is happening" on the Looking at Victory NET on either 20 Meters, anyone can do so online. 
How to use TinyChat..
It costs you nothing and there is no need to sign-up or register.
It is as simple as 1-2-3:
Scroll down to the box to login (when it is done loading) --- using "Guest".
Type your call sign and hit the "Go" button. Ignore the FaceBook message…
You will hear the NET control's HF Receiver's audio (and all the stations he is hearing), as well as him speaking,  LOUD and super CLEAR. There is even an iPhone and iPAD app for TinyChat. This can be used if you are mobile and want to hear the NET or demonstrate it to someone with your iPhone or iPad. 
Sending Text Messages to NET Control or others:
You will see text messages in the TinyChat window after you log-in. To send a text to all, just type your message into the chat box and hit enter. This is handy for:
Checking-in: Specific Regular or Short-time Check-in

Encouraging NET control or anyone online or on 20M

Give a scripture reference

Sharing a URL

Checking-ot of the NET before your time

Requesting prayer

Etc.


IMPORTANT:
You are encouraged NOT to broadcast (video or audio) on TinyChat during the normal NET time, unless instructed to do so by NET control for the sake of enhancing the NET topics(s).  Feel free to broadcast video and audio during the pre-net as this can be fun. Just click on the Broadcast button once you are in the W0LAV TinyChat Room. I suggest using the "Push-To-Talk microphone feature so we only hear people when they want to speak. Below is a screen shot of nine people on TinyChat during an 80M AM NET that WB6RAW get's on in the evenings.

Turn your computer audio way down, or totally off (mute), while you are transmitting on HF. If you don't, you will hear your own audio coming back to you on TinyChat creating lots of audio feedback and confusion for everyone listening. -Thank you!